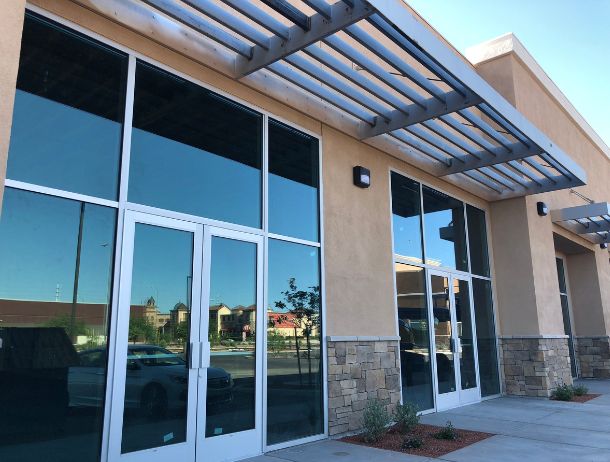 If your building facade is looking a bit tired, it could be time to consider updating it. With advances in technology, materials and design trends, there are now more options than ever when it comes to giving your commercial building an updated look that will make future customers take notice. The average age of a commercial building in the US is 32 years old. According to the US Energy Information Administration, more than 50% of commercial buildings in the US were constructed before 1980.
From simple repairs and upgrades to full replacements, buildings can stand out instead of fading into the background. The best part is that it also improves energy efficiency and increases property value. 
Contact your Houston general commercial contractor for a quote to get started on transforming your building facade. Let our team of experienced professionals help you bring your vision to life.
The Benefits of Updating Your Building Facade
By investing in your building's exterior, you are investing in the success of your business. The benefits of these updates help bring a return on your investment by improving cost savings long-term. Key benefits can include:
Improved Energy Efficiency: Strategically retrofitting older buildings can lead to a significant reduction in the energy required to cool or heat the building. It is estimated that commercial buildings making smart use of energy efficiency measures can save up to 75% in energy costs.
Increased Property Value and Market Demand: Research shows there is a major correlation between old buildings that have been modernized and rental rates or resale value. Studies have shown that upgrading helped build market demand for the buildings, improving its overall value.
Heightened Brand Awareness: Improved curb appeal can increase brand awareness and give your business a competitive edge, helping to catch attention and draw in new customers or business tenants. 
Different Types of Materials for Facade Updates
One way to keep a building's facade up to date and visually appealing is by updating the materials used on the exterior of the building. There are a multitude of options to choose from, including:
Brick 

Natural rock

Stone veneer

Stucco

Wood cladding

Metal panels

Glass

Finished concrete
Each material has its own unique set of benefits and drawbacks that should be carefully considered before making a final decision. For example, brick is durable and low maintenance, while stucco can provide a sleek and modern look. It's important to work with a knowledgeable Houston commercial general contractor to choose the right materials for your specific needs and preferences.
Choose an Experienced Houston Commercial General Contractor
When it comes to any construction or renovation project, choosing the right contractor is crucial. You need someone who has the experience, knowledge, and expertise to get the job done right. In Houston, there are many commercial general contractors to choose from, but not all of them are created equal. It's essential to do your homework, ask for references, and read reviews before deciding. You want to work with a contractor who is professional, reliable, and communicates clearly throughout the process. Taking the time to find the right contractor can make all the difference in the success of your building upgrade project.
Our team at Burleson Construction is here for all of your commercial construction needs. With years of experience, our team of builders will work closely with you every step of the way. We will ensure that you get the highest quality results quickly and affordably. Get started today and enjoy all the long-term rewards of updating your building's facade!