Houston Commercial Construction: Day Care Facilities
Many children spend a lot of their time in daycare centers, so it's important to make sure daycares are fun and educational! We have worked on numerous daycare centers to provide new commercial construction and interior finish services. We design and build parent- and daycare worker-approved spaces. Our team is here to provide the highest quality construction services so you get peace of mind that your project will be completed to your exact standards.
Parents trust daycares to keep their children safe and secure. Part of commercial construction for daycare facilities is ensuring your space is well protected from potential threats, whether from human threats like intruders or natural threats like hurricanes. Our team designs and constructs buildings that help keep children safe.
Let's not forget the need for safe interiors. It's important to reduce any potential safety risks, such as sharp corners and tripping hazards. We work with you to completely childproof your space to help keep children safe and happy in your daycare.
Daycare centers face many restrictions and regulations from various agencies. Our construction specialists are well-versed in all applicable codes, laws, and requirements to provide superior guidance for daycare construction. We are here to help create child-friendly spaces that meet and exceed all necessary regulations.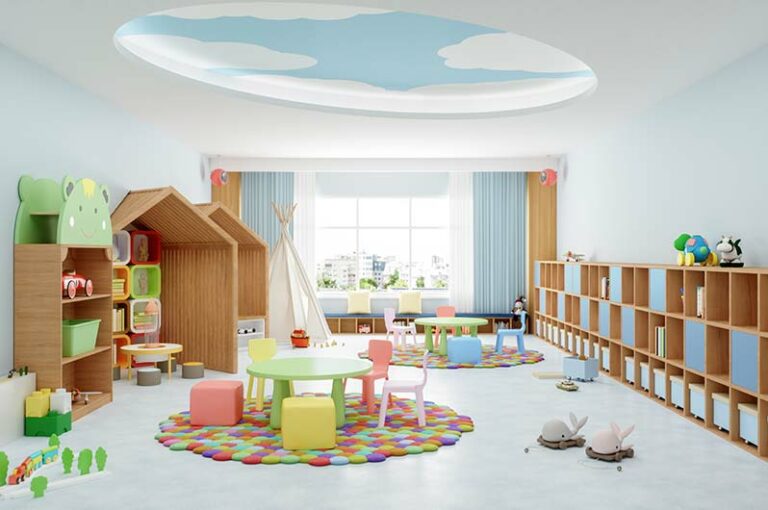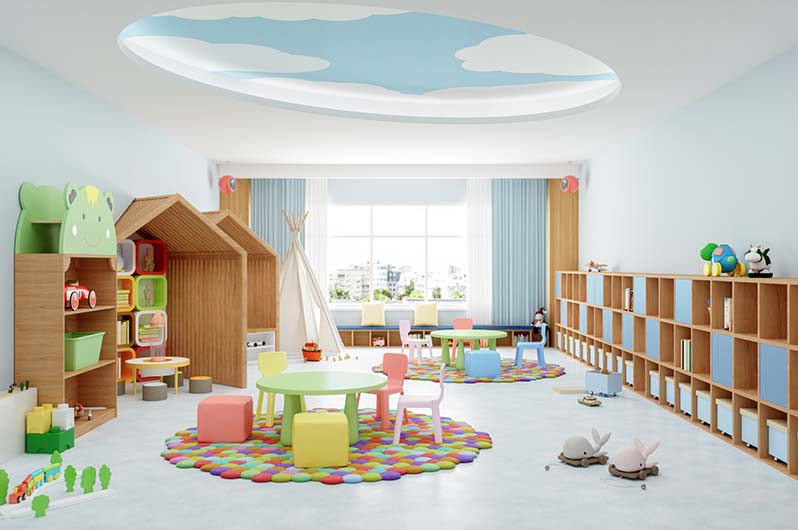 Get in touch today to learn more about how we help with your daycare construction project from concept to completion.
Child Care Facilities – Creative Construction
Did you know that architectural design can actually affect children's development? In addition to the activities and interactions childcare providers provide to children, the physical space can actually impact how children learn and develop. Therefore, it's crucial to consider how design may affect the children inside your daycare.
Our daycare construction experts are here to help you create the ideal space for your needs. We can help design brain-stimulating interiors that encourage learning, development, and play. Bright colors and other creative construction elements help foster activity that is vital for child development. We are here to create successful environments for children with our daycare construction services. We get to know your goals and program to help design a space that perfectly suits your needs. Our goal is to ensure you have the right space for your daycare program.
Whether you need new commercial construction or need a total interior build out for your daycare facility, our team is on your side to help you make a fun, safe, and welcoming environment for children. As a top-rated general contractor, we offer the services you need for your daycare project. We can help design custom spaces perfect for your daycare while staying on time and on budget.
Contact us today to learn more and get a bid for your daycare construction project.