Houston Commercial Construction: Tilt Wall
Tilt wall construction is quick and cost-effective and provides a long-lasting, durable building. Our team at Burleson Construction utilizes cutting-edge methods and technology to provide new commercial construction for a wide range of projects.
Tilt wall construction is a form of concrete construction. How it works is we create the concrete forms for your building on-site based on the building design. Then, we pour the concrete and allow it to cure horizontally. Once fully cured, we use heavy machinery to tilt the walls up into the vertical position, add the final touches (like additional floors and interior and exterior finishes), and voilà: you have a building!
Tilt wall concrete construction is gaining popularity for both commercial and industrial buildings of all shapes and sizes. This type of construction often costs significantly less than traditional building methods, and these buildings are often completed much faster. This makes tilt wall an attractive construction method for many different industries.
As a preeminent commercial construction company, we offer high quality services for all your construction needs. We can handle every aspect of your tilt wall construction project, from concept to completion. Our experts bring years of knowledge and experience to oversee your project and ensure it meets your quality and aesthetic standards while being on-time and on-budget.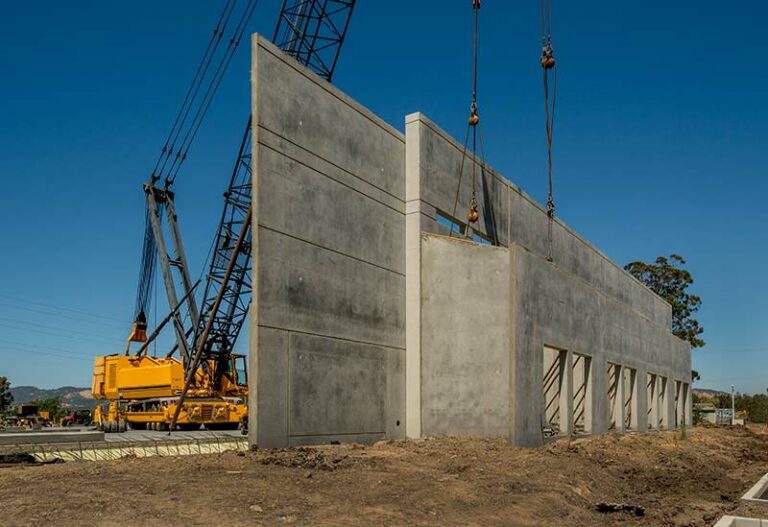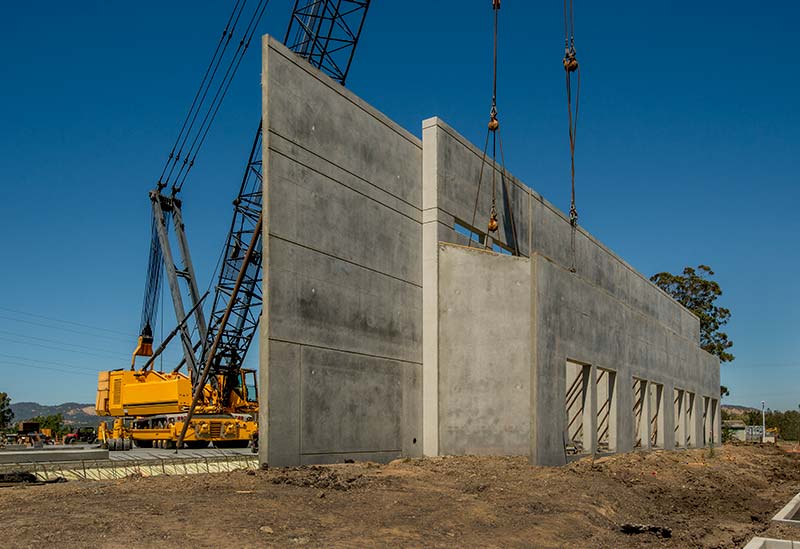 We offer completely customized, turnkey solutions for your tilt wall needs. Contact us now to discuss your project with our team and get a bid.
Tilt Wall Benefits for Commercial Use
Tilt wall construction has become popular for many different reasons. One of the main benefits of this type of new commercial construction method is that it can help save you money. Compared to traditional methods, tilt wall construction requires less time, less labor, and less equipment to construct a building. This creates instant savings for your company. You can also generally have a complete, fully functional building in less time compared to many other types of construction.
Also, concrete buildings offer many other benefits, including:
Durability
Longevity
Low maintenance
Fire resistance
Sound proofing
Heat insulating
Tilt wall buildings offer many advantages to traditional buildings. Concrete is an incredibly strong building material, which means the building requires less maintenance and can last longer than many other types of buildings.
These buildings can also help save you on energy costs. Heating and cooling are the main drivers of high energy costs in commercial buildings. Concrete is a great insulator and can help absorb heat. Tilt wall buildings help block out heat so your HVAC systems don't need to work as hard to keep interiors comfortable.
Concrete tilt wall buildings are also fully customizable. They come in many shapes and sizes to help create an attractive building for your business. The concrete used can be practically any color and can even be stamped with patterns to provide a distinct look. Not a fan of the look of concrete? We can apply exterior finishes to get the exact look you want, such as wood, stone, or brick. Tilt wall construction is flexible to fit your vision.
Reach out today to learn more and get a bid for your tilt wall project.